March 31, 2020
Deadlines for Our Mentorship Award program and Woman of the Year resume submissions have been extended to July 1st.
The goal of the Women in Energy Mentorship Award is to invest in our industry's future by providing students with valuable connections and tools for success, as well as highlighting the outstanding career opportunities available within the energy industry.  Visit this page on our website to learn more about our program and take a minute and view a short video.
To download the Mentorship application, click on the link 2020 Women in Energy Mentorship Award.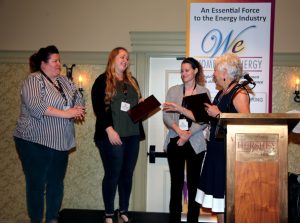 Resumes for our Woman of the Year Award will also be extended to July 1.  We encourage all, to think about submitting a resume of someone that you might work with or someone you know that works within the Energy Industry and has made a positive mark.  For details, click here.
Winners will be recognized at our annual conference, August 2&3, 2020.