February 12, 2019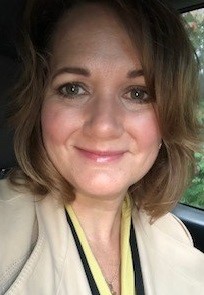 Tina M. Starner
Specialist III; Fuel Safety, Maintenance and Environmental Compliance
Retail Business Services (RBS), a subsidiary of Ahold-Delhaize USA
Carlisle, PA
I have worked in the petroleum retail industry since 2006, when I joined Sheetz, Inc., as a Senior Assistant to their General Counsel. While there, I progressed to Senior Financial Analyst on their Fuel Tax Accounting team, and then to Petroleum Compliance and Mid-Office Manager. In 2014, I joined Ahold USA as an independent contractor, serving as a Small Equipment Purchasing Manager and then as a License Administrator. In 2016, I joined the Fuel Sourcing team of Ahold USA (now Ahold-Delhaize USA) as their Fuel Safety, Maintenance and Environmental Compliance Specialist.
I hold an Associate of Science degree in Legal Assistance from Mount Aloysius College, a Bachelor of Science degree in Organizational Leadership from St. Francis University, and a Master's degree in Business Administration from St. Francis University.
I was born and raised in Cambria County, PA, but now enjoy living in Cumberland County, PA, where I frequently hike and kayak. I also enjoy service and fellowship at the Carlisle Free Evangelical Church. My son, Evan, lives near Pittsburgh, PA, where he works in IT Security for the Pittsburgh International Airport. My empty nest has been filled by three Corgis – Maggie, Jiggs and Arty.
What exactly does your job title mean – what are your responsibilities?
I am a member of RBS Fuel Sourcing, a 10-member team that provides fuel sourcing, distribution, retail pricing, maintenance and environmental-compliance services to more than 220 retail fuel stations and 12 distribution centers across nine (9) East Coast states.  Our great local brands include Giant-Martin's, Giant Foods, Stop & Shop, Food Lion and Hannaford Food. I am responsible for overseeing the maintenance and environmental compliance programs for our retail fuel stations and our distribution centers.  This requires an understanding of federal and state regulations for the operation of underground and aboveground storage tank systems; federal, state and local fire codes; and fuel transportation regulations.  I negotiate service contracts; monitor budgetary spend; manage site inspection and environmental testing schedules; and oversee UST/AST tank system maintenance, repairs, cleaning and renovation activities.
 What's a typical day like for you?
There is no typical day for me, and I enjoy that. I am based at our Carlisle, PA, campus; but I frequently travel, touring our retail locations and distribution centers, visiting with Brand counterparts, and meeting with vendors.  I have many tasks to complete throughout the week, but every day brings its own set of unexpected events, challenges and opportunities.
What's the best part of your job?
Because our business footprint is so large, personal interaction can be a challenge. We have become increasingly dependent on technology to communicate – email, texting, and webinars. I enjoy traveling to our retail locations and distribution centers and the personal interaction it affords. 
 Could you tell us a little of the journey that got you here?
I spent most of my life in western Pennsylvania. I obtained an Associates Degree in Legal Assistance and worked for several private attorneys and accountants. I took a position with the Legal Department at Sheetz, Inc., in Altoona, PA. Over the next several years, I advanced within the company to petroleum accountant, and then to petroleum mid-office manager. During that time, I also obtained my Bachelor's Degree in Organizational Leadership and my Master's Degree in Business Administration. I relocated to Carlisle, PA, where I soon joined my current team. It's been an amazing journey.
 Was there anyone along the way that mentored you or helped you along?
I have had many mentors in my career. Some were employers and managers, while others were friends or professional acquaintances.  I have found that life-experience can sometimes be the greatest mentor.
 What other jobs have you held?
I was a grocery clerk, a florist, and a bookkeeper. I was a legal assistant for several private law offices. I was also the manager of a country-club clubhouse.
 Why did you get into the energy industry?
I would like to say that it was by design. In truth, it was more of a career journey.
What would you tell young women thinking about a future in the energy industry?
Nothing is off-limits. Challenge yourself and your ideas of what "life" should look like.  It's not who you are that holds you back; it's who you think you're not. 
Is there anything you'd like to say to your younger self?
Do not let fear hold you back. It's a wild and wonderful world.   
Can you share one project or job that was memorable in some way?
My greatest memories are from my travels, seeing new areas of the country and meeting new people. 
What do you see for the future of the energy industry?
I see an unstoppable increase in the number of women building careers in this industry and, as a result, a transformation of the world of "energy".