February 9, 2022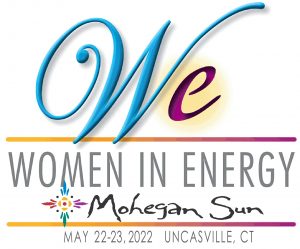 Registration is now open for Women in Energy's Annual Conference to be held May 22-23, 2022, at Mohegan Sun in Uncasville, CT. This year's event features an empowering two-day program filled with education, networking, and tabletop exhibitor displays.
Women in Energy President Erin Holohan Haskell said, "We are very excited to be able to gather together for this two-day event. Attendees will make valuable industry connections and gain strategies to take their careers to the next level. Women in Energy has tailored this year's program to meet the diverse needs of managers, as well as their employees. And while our organization is named Women in Energy, this Conference is open to all."
The Conference will begin on Sunday with a Power Panel that includes four accomplished professional women in leadership roles throughout various sectors of the energy industry. They will share valuable career advice and discuss how they've successfully led their teams during these unprecedented times.
The schedule includes a networking reception, dinner, and a keynote presentation by Anastasia (Ana) Kraft, Founder and CEO of Xena Workwear -a company that creates fashionable safety shoes and functional apparel for women in STEM and the Trades. This new category of workwear helps professional women be safe and feel confident in any work environment. Transitioning between the office, to the construction site or manufacturing floor has never been so easy. Ana holds a degree in International Project Engineering from Reutlingen University in Germany and currently resides in Milwaukee, Wisconsin. The causes that drive her include sustainable development, education and maximizing opportunities for women.
Day two of the Conference will offer attendees a full schedule of programming covering a wide variety of topics. Since this year's Conference is being held to coincide with Eastern Energy Expo, attendees are eligible for a discounted EEE registration fee.
Sponsorship and tabletop exhibitor opportunities are available. Visit WeWomenInEnergy.com for more information and the full conference schedule.
Visit wewomeninenergy.com to see Women in Energy's full conference schedule, reserve your spot, and learn more about membership and sponsorship opportunities.