December 8, 2020
Wine & Punchlines

with Laurie Forster, the Standup "Sommelier"
Laurie proved herself to be a standup comedian and a very knowledgeable wine expert.  Laurie's style of keeping everyone engaged – it couldn't have been any better. And we all learned a bit about wines – how to "smell" the wine, identify the "legs" on your glass and best of all how to truly enjoy wine with friends.  We also got some great suggestions for perfect snacks and light foods to enjoy with affordable wines.
And thank you to our audience of volunteers – Michelle Wilson, Victoria Sanches, Beth Tocco and Beth Valentin.  Each of these ladies received Laurie's book, The Sipping Point.
We also want to acknowledge the lovely door prize donated by Marjorie Feinman which was won by Michelle Wilson!  Thank you Marjorie!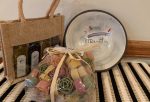 We all hope we can attend in-person holiday parties December 2021!