August 16, 2021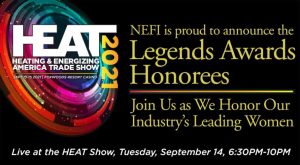 NEFI is Proud to Announce Our 2021 Legend Award Honorees!
Join us as we honor our industry's leading women. Live at the HEAT Show, Tuesday, September 14, 6:30PM-10PM
The NEFI Legends Awards Dinner has always been one of our association's most popular and well-attended events. It is a formal (black tie optional) dinner-ceremony at which we come together to support those individuals who have made an indelible impact on our industry. This year, there will be an extra-special twist on this always special occasion.
As you may know, 2020 marked the 100th anniversary of women being granted the right to vote. Unfortunately, our event wasn't held last year due to the pandemic. Nevertheless, we still want to acknowledge this important milestone in our nation's history.
Thus, this year's Legends Awards will honor some of the leading women of the liquid heating fuel industry. Each of these honorees has helped promote the success of women in our field, as well as the success of the industry itself. Their achievements are nothing short of legendary.
In addition to presenting of these awards, the 2021 Legends ceremony will include an open bar cocktail reception, multi-course dinner and more. The event's MC will once again be past Legends Award recipient Jim Townsend of Townsend Energy. The reception begins at 6:30 and the ceremony is expected to conclude around 10:00.
To learn more about the honorees, visit: https://www.heatshow.com/legends-dinner/
For more information or to become a sponsor, please contact Jessica Levaggi at: 617-804-2222 or jessica@nefi.com